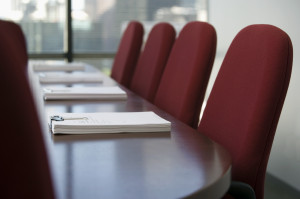 Most people don't like meetings including Chama meetings. They say they are boring, go on too long, and don't get anything done. And often that's the truth. So to have a good meeting, you need to make it interesting, keep it on track, and make sure something gets done. For chamas, members spend copious amounts of time in meetings that all-too-often effectively accomplish nothing. Here's how to set yours apart by effectively planning for, and running, your meeting. Here are some ideas to help you.
Prepare in advance.
Decide what your goals are for the meeting and form a specific plan of action to meet those goals. Make a list of the topics that you will address and make copies of this list for distribution to chama members. When you run a chama meeting, you communicate with all chama members at once, plan future chama activities and make important decisions. To run the meeting effectively, you must be organized and have a plan. The meeting facilitator maintains order throughout the meeting while tackling all topics on the meeting's agenda.
Start on time.
Make an announcement five minutes before you plan to start. As chama members find seating, hand out copies of the meeting agenda. This allows chama members to review the agenda as you prepare to begin.
Introduce new chama members.
Icebreaker sessions are the best way to introduce new members. Have them state where they grew up, where they went to school and why they decided to join your chama.
Review minutes from the previous meeting.
This reminds chama members of actions that were taken during the last meeting and gives new members a better understanding of current meeting topics.
Allow time for questions and answers.
Chama members will likely have questions, so be prepared to answer them. Ask those with questions to raise their hand and call on each member individually. This is also a good time to encourage chama members to make suggestions for future meetings.
End on time.
Having a specific end time helps to keep the facilitator on track. If chama members have additional questions or concerns, invite them to speak with you after the meeting adjourns. It is important to have someone to keep meeting minutes. Also, have a volunteer deliver handouts to members.
Put decisions to the chama.
The participants own the meeting. Let them set the agenda before the meeting, or at least add to it when you begin. If decisions need to be made about the process then ask that question to the group.
Pay attention to what's important.
Set a certain amount of time for each item on the agenda, based on how important it is. If the group starts spending a lot of time on details, ask them "Is this what we want to spend our time talking about?" A lot of details can be worked out by individuals or committees—meetings are for the decisions that need to involve the whole group.
Keep the meeting on track.
Your agenda is the tool you use to make sure you're on time and on the right topic. When side issues come up, help the group get back on track. If the issue sounds important, check with the group. "We're talking about a new issue—is this something important that we should take time to discuss?"
Make sure people participate.
People think a meeting is useful based on one simple thing: whether or not they talked. So everybody should have a chance to share their ideas. It's okay to ask specific people what they think! You should also be prepared to gently remind people when they're talking too much.
Assign tasks.
As you move through your discussion and decide on things that need doing, assign these tasks on the spot. Also set a due date for the completion of each task, improving the chances that the task actually gets done. Ask the individual taking meeting minutes to write down these task assignments.
Categorised in: chama constitution, chama management, Chama meetings, Chamas
This post was written by
Please Subscribe and get Notified when new articles are posted