By Mary Anne Zita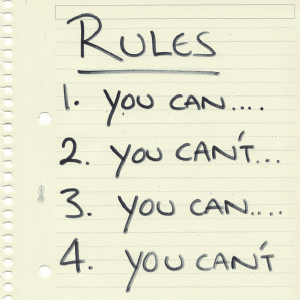 Chamas are great. They can be a source of joy for many of us and a good way to get into investment using the power of a group. Through your chama you can also develop some great friendships and have fun with your money. But, the bottom line is a chama is all about business. It is not just a hobby but an actual business venture where you will all be working together on investing your money.
However, though chamas are good, many of them fail and disintegrate. So, why does that happen? Often times you will find that the root cause of failure is that there were no rules. A chama without rules in doomed to fail. This is due to the fact that rules help to keep everything orderly and help to ensure that everyone has a good investment experience.
Now that you know that rules are good, how do you go about setting rules for your chama? Melanie Nganga of Jamii Bora, gives some advice. "From the start it is important that an investment club has some set rules. These initial rules should cover some important aspects of the club and how it works." Says Melanie. Here are some rules that many successful chamas embrace.
Limit membership. One of the first rules about a chama is that membership should be limited. It is a good idea to keep the numbers low so that everyone can get the attention needed and investments can be well managed. Most successful chamas are limited to around 15 members maximum.
Meetings. The meeting time and place should be discussed and established. It is really important that all members are together in deciding this point. And it is best done at the very beginning. This should be a rule that is taken very seriously. Missing meetings could greatly affect members' ability to stay on board with the investment club. Thus put stiff penalties for members who miss meetings and make it mandatory for everyone to come for meetings and do not accept flimsy excuses. To maintain orderly meetings, an agenda should be set and distributed to all members. Although it's fine to socialize and enjoy getting together, the business part of the meeting should be handled first in order to reach the objective. Each chama can add rules that are suited to the members. Some issues that might require rules are confidentiality, memberships and so on.
Chama name. Make sure your chama has a name. It can be serious and related to finances, or it can be fun. The name should reflect its members and the whole atmosphere of the club.
Financial particulars. The next rule would be to set up the financial particulars. There should be a minimum monthly contribution by each member into the investment budget. This can be based upon a mutual agreement by all members. Lastly the chama should draw up some goals and finalize any loose ends to make sure everyone is on the same page.
The chama should also draw up other rules. They may want to establish rules involving new members or other rules that will help the club run smoothly and ensure that anything in the future that may come up will already be governed by the chama rules.
The chama may also want to establish officials and the particulars about elections and terms. Some chamas may choose to not have officials, which is also fine. This is a choice for each chama depending on how formal or casual you want the chama to be.
Set chama goals. The ultimate goals of the chama should be stated clearly and written in a document for each of its members, so everyone is on the same page and can do their research in an educated and more proactive manner.
Categorised in: chama constitution, chama management
This post was written by
Please Subscribe and get Notified when new articles are posted